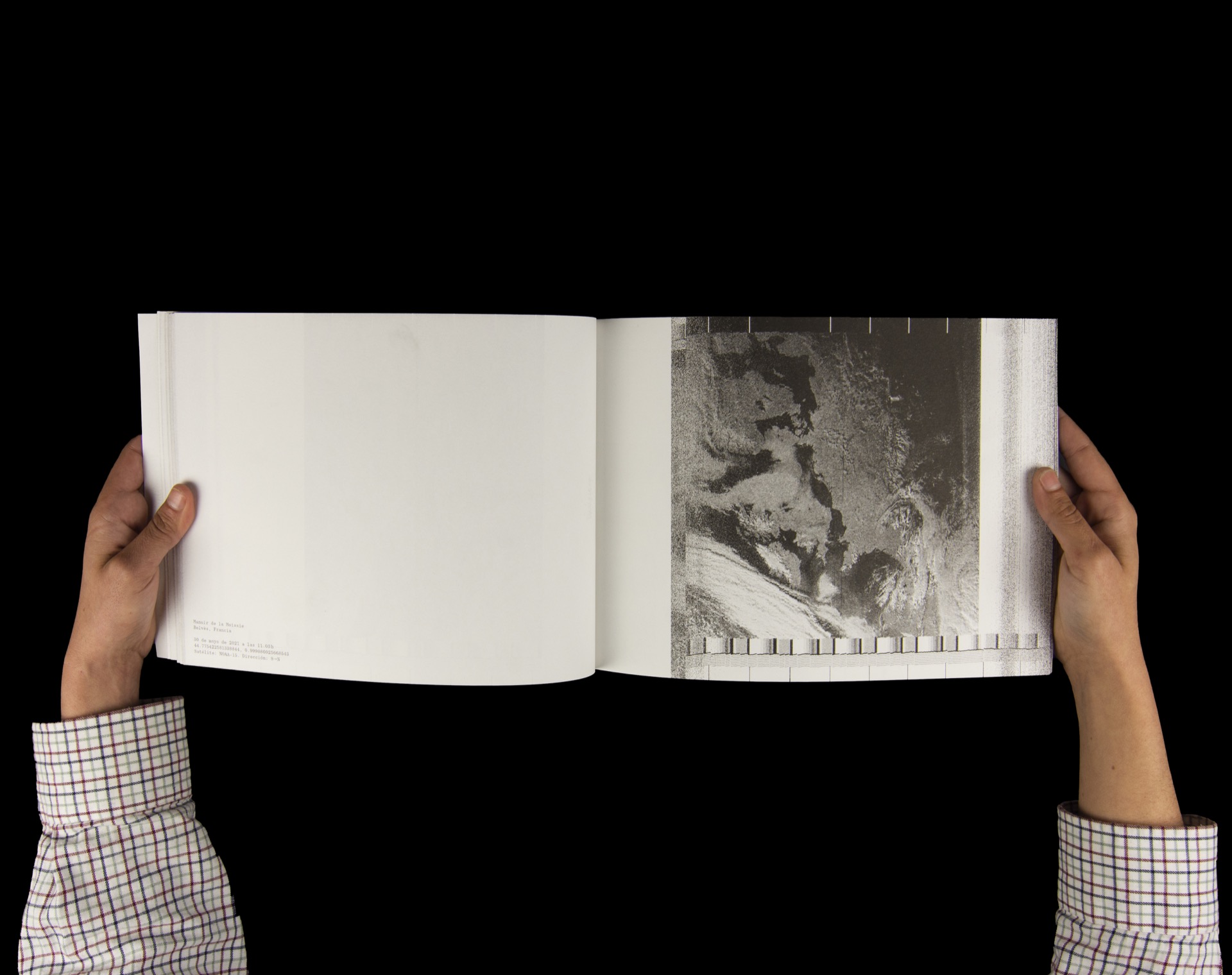 1PX/4KM
Photography by Jaime Sebastián
︎ ISBN: 978-84-123934-2-2
[ENG]
1PX/4KM is the result of researching the NOAA satellites. A series of apparently obsolete meteorological instruments, which sail through space circling the earth on a daily basis.
Through a homemade antenna and several field trips, Jaime Sebastián explores the possibilities of reproduction of these instruments, trying to answer several questions along the way. How do you access a camera that is in space? What alternative functions can be found in these images? To what extent can they be considered your own photographs?
The images captured by the author are combined in the book with pieces of the history of the NOAA program and the gradual acceptance of these satellites by an online community of radio amateurs who ended up appropriating the medium.
A journey through radio waves that proposes a visual language of vertical perspectives and kilometric scales that invite us to reflect on our place on earth and the use we make of technologies.
[CAS]
1PX/4KM es el resultado de la investigación sobre los satélites NOAA. Una serie de instrumentos meteorológicos aparentemente obsoletos, que surcan el espacio rodeando la tierra a diario.
A través de una antena casera y varias excursiones al campo, Jaime Sebastián explora las posibilidades de reproducción de estos instrumentos intentando resolver varias preguntas por el camino. ¿Cómo se accede a una cámara que está en el espacio? ¿Qué funciones alternativas se pueden encontrar en estas imágenes? ¿Hasta qué punto se pueden considerar fotografías propias?
Las imágenes capturadas por el autor se entremezclan en el libro con pedazos de la historia del programa NOAA y la paulatina acogida de estos satélites por parte de una comunidad online de radioaficionados que han acabado apropiándose del medio.
Un viaje por las ondas de radio que plantea un lenguaje visual de perspectivas verticales y escalas kilométricas que nos invitan a reflexionar sobre nuestro lugar en la tierra y el uso que hacemos de las tecnologías.
Free Shipping inside EU in orders over 100€

---
Softcover / Bolt binding / 293 x 206 mm / 72 pages / Risograph & digital printing /
---
---